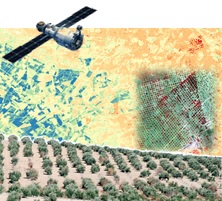 In the last two decades, and thanks to the availability of new geospatial and information technologies, there have been many advances in agriculture to make a precision management of farms a reality, optimizing the use of various inputs ( fertilizers, plant protection products, water). Remote sensing is presented as a useful tool that provides spatial and temporal information about our farms, which can be used to carry out more efficient management. However, it is important to be aware of its limitations and at the same time of many uncertainties that we can currently find in the adaptation of these technologies in the agricultural sector.
In this 3rd edition of the conference we wanted to focus on showing the latest scientific and technical advances in the use of remote sensing in agriculture. It will address issues related to the characterization of fruit plantations, crop fertilization, the detection of weeds and symptoms caused by some of the most serious diseases that threaten almond trees, such as Xylella fastidiosa .
In addition, the most innovative advances in the use of satellite and aerial images to determine the water consumption of crops and based on them to be able to identify the most tolerant varieties to water scarcity will be presented.